There are so many very expensive Golf Rangefinders on the market at the moment, we've even written an article about the best 5 golf rangefinders. However, if you're a beginner golfer you don't need to spend a fortune when getting started. Here we've pulled together everything you need to know about budget rangefinders, and help improve your accuracy, club selection and scores.
---
If you're a beginner golfer, you might have heard about golf rangefinders but maybe your not 100% sure what they do or how they are used in golf. Fun Golf are here to help you answer some of the most common questions we've been asked by our community about the best cheap golf rangefinder. Also, don't worry, when we say 'cheap' we actually mean 'great value'. They are just as good but maybe from a less well known brand.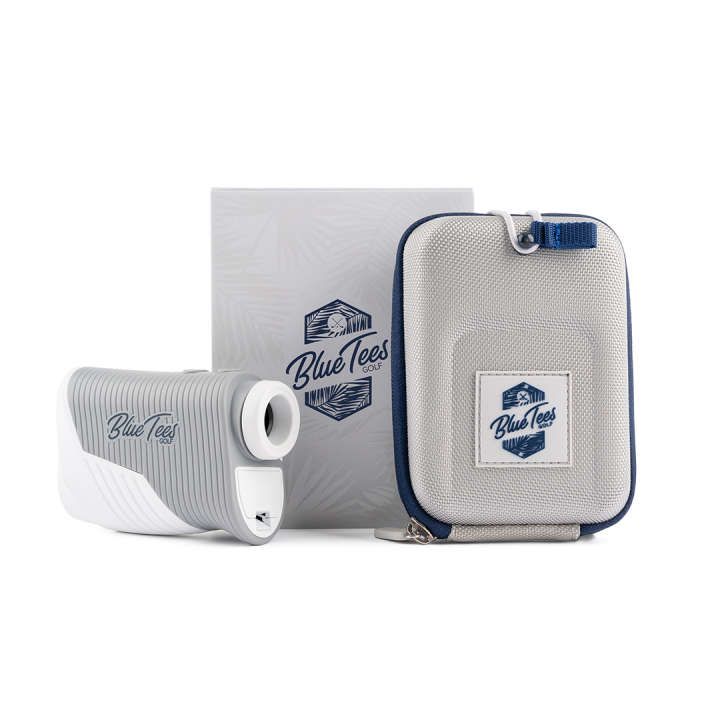 Golf Rangefinders don't need to cost a fortune!
How do golf rangefinders work?
Golf Rangefinders work by emitting a laser towards an object in the distance, in golf it would be the flag. The laser then hits the flag and returns to the rangefinder which calculates the time taken to return and changes this into a distance measurement. There are different types of rangefinders which are used in golf, Laser Rangefinders and GPS Rangefinders. The below image clearly explains how this process works, thanks to rangefinderpro.com for producing this amazing image.

Laser Rangefinders are the most popular and work as described above by focusing on a fixed target and calculating the distance. GPS Rangefinders work by downloading golf course information onto the rangefinder and providing you with distance information depending on where you are on the course. GPS rangefinders are marginally quicker to produce distances, but they do often require you to subscribe to be able to download course information. In our opinion, to get the best Cheap Golf Rangefinder (with slope) you should focus on Laser Rangefinders.
Where do you aim a golf rangefinder?
Choosing the correct club for your approach shots to the green are vitally important to help improve your golf game. Using a Rangefinder can help to judge your distance . When aiming the golf rangefinder, it is best to aim the golf rangefinder is at the flag on the green. You can also choose to aim at other fixed landmarks during your game to help with calculating distances but predominately it is the flag which golfers aim at as a target. Even with the best cheap golf rangefinder you will find that the accuracy is excellent and will easily find the flag stick.
Are golf rangefinders accurate?
Golf rangefinders are extremely accurate. If you want precise measurements for your golf shots then we would recommend a laser rangefinder as the only option. Many models are reported to be accurate to within half a yard, some of the more expensive models are even more accurate.
In comparison to GPS rangefinders which only provide pre-loaded distances to specific landmarks on the golf course, laser rangefinders can be targeted to aim at any fixed object you need to measure. Therefore if you wanted to find out how far you've hit your drive you can accurately calculate this distance by aiming the rangefinder at the flag and subtracting from the holes total distance.
What makes a rangefinder illegal in competitions?
The functions available on some models which provide extra information regarding playing conditions such as wind direction and slope information are not legal in competitions. Unless these functions are able to be switched off you will not be able to play with them in competitions. The best cheap golf rangefinder that I've listed in this article all have the ability to switch off the slope function meaning you can use these in all types of golf matches.
The USGA and R&A rules were updated in 2016 which banned the use of rangefinders in professional competition, but allowed local decisions to be made at courses to allow rangefinders for amateurs. However, as mentioned if the functions which artificially reduced the need for judgment cannot be switched off it will be deemed illegal to use in competitions. The section highlighted below relates to this rule:
Using equipment (other than a club or a ball) that artificially eliminates or reduces the need for a skill or judgment that is essential to the challenge of the game
USGA and R&A Rules of Golf
---
Do golf pros use rangefinders?
Generally as golf rangefinders are illegal in competition you wont see PGA professionals using them. However, in February 2021 the PGA of America announced it would allow the use of rangefinder measuring devices during its major championships."We're always interested in methods that may help improve the flow of play during our Championships," said PGA of America President Jim Richerson in a press release. "The use of distance-measuring devices is already common within the game and is now a part of the Rules of Golf. Players and caddies have long used them during practice rounds to gather relevant yardages."
This is a major change to golf at a professional level, for golf purists it presents an uncomfortable rules update. However for the more progressive golfer this is a natural step towards embracing technology in the modern game. We will watch with interest as this change unfolds in 2021. What do you think? Comment below and let me know?
What should I look for when buying a golf rangefinder?
There are many features which are listed by Rangefinder brands as being vitally important and reasons to buy theirs over the competition. However in the best cheap golf rangefinder guide we've broken this down to the most important three things to look for when buying a budget golf rangefinder:
§ Slope Adjustment – Most good golf rangefinders will have a function where they can accurately calculate the distance to the target, taking any slopes into consideration. Please be aware that this function is illegal in golf competition under the rules of golf, and it must have the ability to switch on and off. It is fine to use in practice but not in the club medals and competitions. All of the models in our list can switch slope on and off.
§ Pin Finder Technology – This has different by the rangefinder companies, but in essence it has technology that distinguishes the target (the flag) from other objects in the background which could confuse the laser rangefinder. So for example if there are lots of trees around the back of the green it helps the rangefinder to focus in on the flag to provide a quick and accurate reading. The good models will vibrate when the target is fixed upon assisting the measurement.
§ Magnification – Some companies provide magnification technology on their rangefinders, whether this is x5 the magnification or in the very expensive modes a lot more up to x7 magnification. Definitely a feature to look out for when assessing which model to add to your wish list.
---
What do I use?
My personal choice is the Peak Pulse Rangefinder, I really like the black and white coloring and lightweight design. It's small enough to fit in the palm of my hand, has a useful carry case with clip for the golf bag. It also has an adjustable slope function as well as pin lock vibration sensor making it easy to lock on to my target.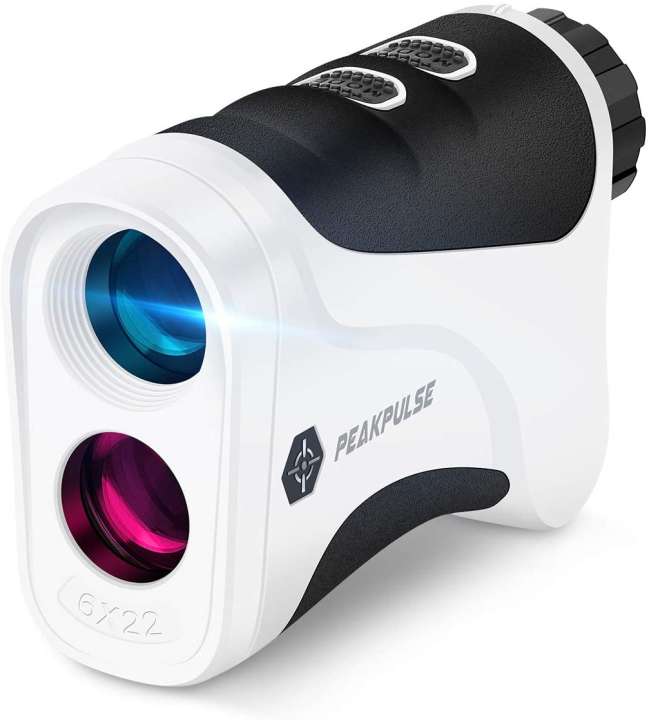 Blue Tee Golf Rangefinder
Why not have a look at the Blue Tee Golf Rangefinder. The Series 3 Max rangefinder looks awesome, I've got one on order to test out and can't wait.
It has pin lock, with vibrate assist, you can switch the slope on and off, the display is also crystal clear. Whats more if you use the discount code FUNGOLF at checkout you can save an additional 10% on the purchase price.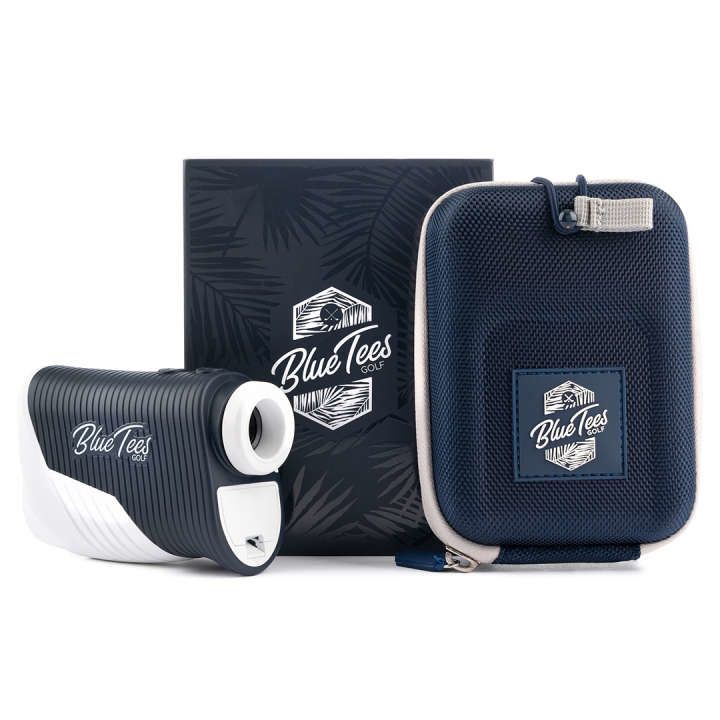 Make sure to let me know what you think of this when you make your purchase, I'll be sure to upload more pictures and a video when mine arrives. Enjoy and don't forget the code. Just so you know Fun Golf is a participant in the GoAffPro Affiliate Program, an affiliate advertising program designed to provide a means for sites to earn advertising fees by advertising and linking to the partner site. Your purchase of this item helps me keep the lights on in my site and keep producing this useful content! Thanks in advance!
Conclusion
Are cheap golf rangefinders (with slope) any good?
You will be really surprised with the quality you can find for a really cheap price. We hope that you can find the right one for your game, and budget.
Should I buy a GPS Watch or a Golf Rangefinder?
If you're looking for more information why not sign up here to receive our free buyers guide which will help show you the main points you need to know when deciding to buying a GPS golf watch or a golf rangefinder.